ELICALMETER®
Contents List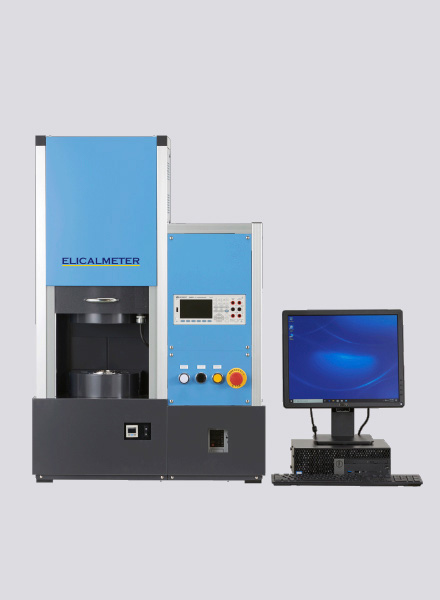 Measuring carbon black dispersion objectively, quantitatively, simply & safely
The dispersibility of carbon black (CB) and other fillers has a considerable impact on the properties and processability of rubber. However, it is typically assessed just by visual inspection, meaning that the results are less than objective. We have answered the need for hard data by developing ELICALMETER, a system that makes it easy to quantify dispersion by measuring electrical conductivity. This approach takes advantage of CB's quasiconductive nature by gauging the decrease in the conductivity of CB in rubber polymers that occurs as the particles move apart due to micronization and dispersion during mixing.
(supported by National Institute of Technology, Kurume College)
How differences in CB dispersion affect conductivity

The degree of dispersion of quasiconductive CB mixed in rubber polymers affects the electrical conductivity of the matrix.
Sample Data
Test data (N=8) for different mixing times of isoprene rubber loaded with B 40 phr. (DC 10V, 80°C)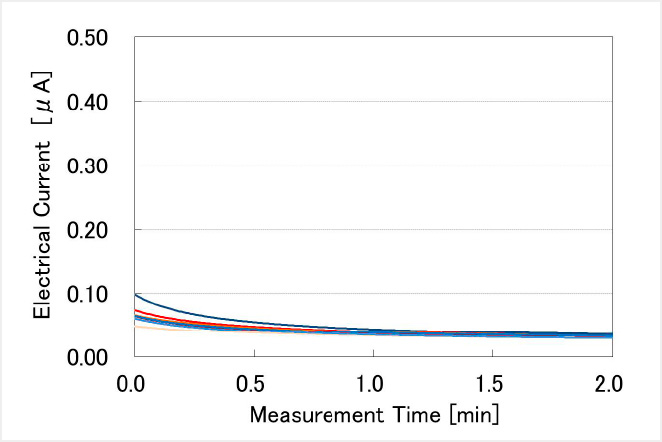 CB dispersion is good in a rubber with good dispersion at 5 min. of mixing. Consequently, testing shows that electrical current (vertical axis) is low and variances in results are minimal.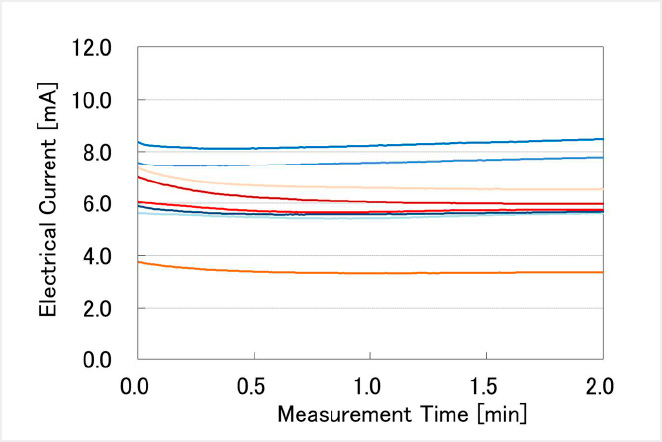 CB dispersion is poor in a rubber with poor dispersion at 2 min. of mixing. Consequently, testing shows that electrical current (vertical axis) is high, and results vary widely.
Features
Reliable maintenance & support
We dispatch expert technicians to provide prompt on-site support to our customers around the globe.
Easy & safe operation, English interface
ELICALMETER is easy to use—just load the sample on the die, close the chamber door, and press the start button.
As a safety feature, an electromagnetic lock automatically engages to prevent the door from opening during operation.
Only a few grams of sample are needed to perform a test.
The system software is available in an English version, allowing operators in many countries to run the instrument simply and safely.
Measures CB dispersion in master batch, final mix, pre-cured and cured compounds
With just one system, you can acquire dispersion data across the different compounding and curing stages, ensuring the consistency of your results.
Superb fine-tuned temperature control
The die temperature is optimally maintained by a superb fine-tuned temperature control system.
We have a demonstrator at a site in Tokyo where you can bring samples for testing. Feel free to contact us on testing opportunities.
Contact
Send your questions to us via the contact form linked below.
Contact for questions & consultation
ENEOS Materials Trading Co., Ltd.
●Machinery Dept.
Shiodome City Center 9F
1-5-2 Higashi Shimbashi, Minato-ku, Tokyo 105-7109, Japan
Phone: +81-3-6218-3812 / Fax: +81-3-6218-3819
Request Information
PDF brochures can be requested from below.