Hardening instrument CURELASTOMETER®
TYPE P (for resin)
Contents List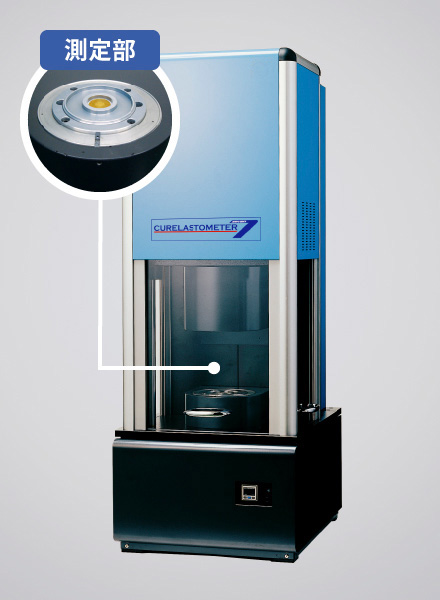 CURELASTOMETER®
(reg. TM of ENEOS Materials Corporation)
A resin hardening instrument that was created from the DNA of our rubber curemeter and polymer chemistry expertise
CURELASTOMETER® Type P is developed for thermosetting resin. It quantitatively characterizes resin curing behavior by measuring gel time and the formation of the 3-dimensionsal network structure that starts with gelation.
The instrument has an in-house developed feature for tracking cure shrinkage. This controls sample slippage, thus making it possible to test with a high level of reproducibility. Also, the die's design speeds up the testing process by enabling easy post-test removal of the hardened sample.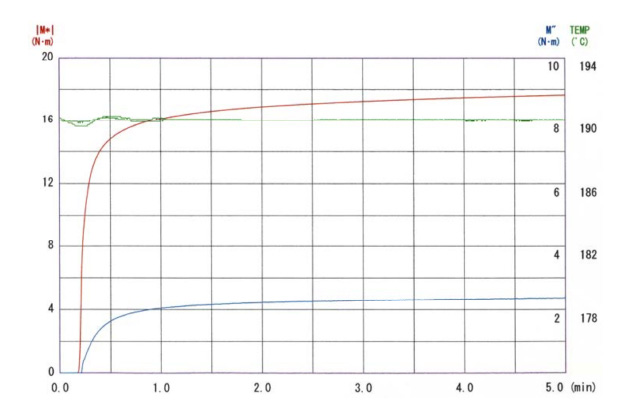 Example of data graph output
CURELASTOMETER® acquires data on the cure rate of thermosetting resins and compounds, including the gel time, cure rate index, and optimal cure time. It can be used to test specimens in various forms, including powders, liquids, and sheets.
Features
Reliable maintenance & support
We dispatch expert technicians to provide on-site support to our customers around the globe. We also have permanent local teams in selected countries in Asia that can provide prompt assistance.
Easy & safe operation, English interface
CURELASTOMETER® is easy to use—just load the sample on the die and close the chamber door.
As a safety feature, if the door is inadvertently opened during operation, the instrument automatically shuts down.
Only a few grams of sample are needed to perform a test.
The system software is available in an English version, allowing operators in many countries to run the instrument simply and safely.
Superb fine-tuned temperature control, plus a removable die
The die temperature is optimally maintained by a superb fine-tuned temperature control system. Also, the die has a removable design that facilitates extraction of the hardened sample after testing. This not only speeds up the testing process, but also makes it easy to care for the die.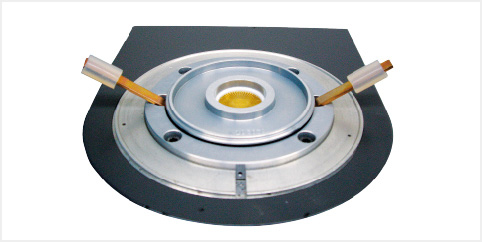 Type P die design
Drive mechanism and slippage control enable precise measurement
The instrument reliably produces precise data because the die is driven by a sinusoidal oscillator with zero asymmetric error, and because it controls/mitigates sample slippage with an in-house developed cure shrinkage tracker.
Adaptable to different specimen forms
By using our special adapters, you can test various specimen forms, such as powders and sheets. (Adapters are a separate option.)
Support for R&D sample testing
The addition of a feature that automatically increases torque and testing time enhances the measurement of samples whose data results are hard to predict.
●Some materials tested by our customers
Electronics

EP & PF for semiconductor encapsulants
EP & PF for semiconductor substrates
EP & PF for electronic housings

Construction

EP, PF, Q , U & UF for adhesives
PF for rubber fillers
UP for bathtubs, boards & building materials

Automotive

CFRP materials
PF for brake pads/linings
UP for spoilers
●Testable materials(partial list)
EP: Epoxy resin
UP: Unsaturated polyester resin
UF: Urea formaldehyde resin
PF: Phenol formaldehyde resin
MF: Melamine formaldehyde resin
U: Urethane
Q: Silicon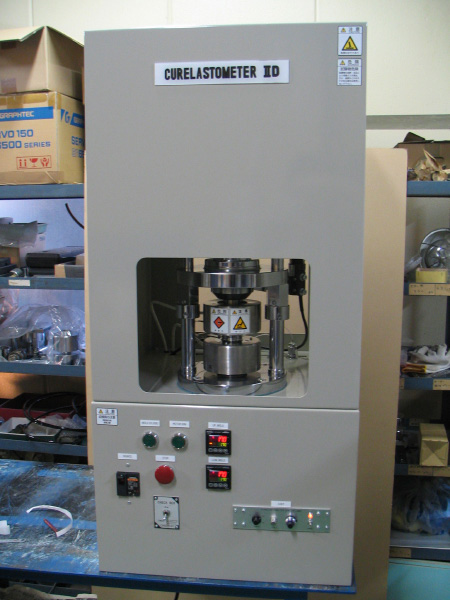 CURELASTOMETER® II D
We have a demonstrator at a site in Tokyo where you can bring samples for testing. Feel free to contact us on testing opportunities.
Calibration, Inspection & Repair
For consultation on these services, use the contact form linked below.
Worldwide maintenance and repair
Regions served: Asia, Europe, Middle East, Americas
(both Type R and Type P)
Contact for questions & consultation
ENEOS Materials Trading Co., Ltd.
● Machinery Dept.
Shiodome City Center 9F
1-5-2 Higashi Shimbashi, Minato-ku, Tokyo 105-7109, Japan
Phone: +81-3-6218-3812 / Fax: +81-3-6218-3819
Request Information
PDF brochures can be requested from below.