Curemeter CURELASTOMETER®
TYPE R (for rubber)
Contents List
CURELASTOMETER®
(reg. TM of ENEOS Materials Corporation)
A global standard in curemeters,
conforming to ISO & JIS
Since its debut in 1966, CURELASTOMETER® Type R has been the rotorless curemeter of choice for many rubber manufacturers and processors. We have distilled the technical expertise and insights gained over more than half a century to evolve a system that enables any operator to easily and safely obtain curing metrics with high precision.
Going forward, we will further strive to answer the needs of a growing number of users by using our vast experience to provide a full set of support, offering value added that transcends your expectations.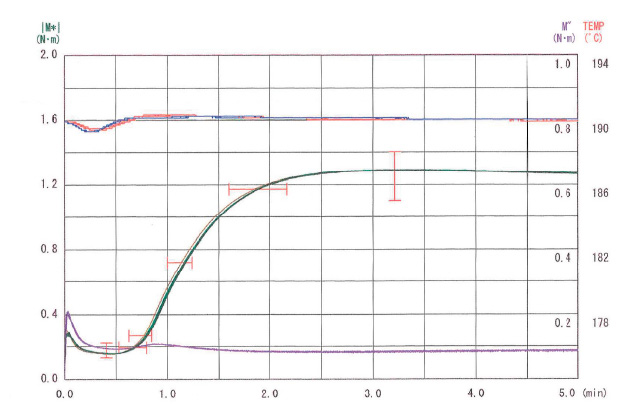 Example of data graph output
In just one shot, CURELASTOMETER® provides the scorch time, curing rate index, optimal curing time, and other data on the curing speed, as well as data on characteristics, such as viscosity of uncured mixed status and its predicted modulus after curing.
We also offer an optional system for automatically loading samples and extracting them after testing.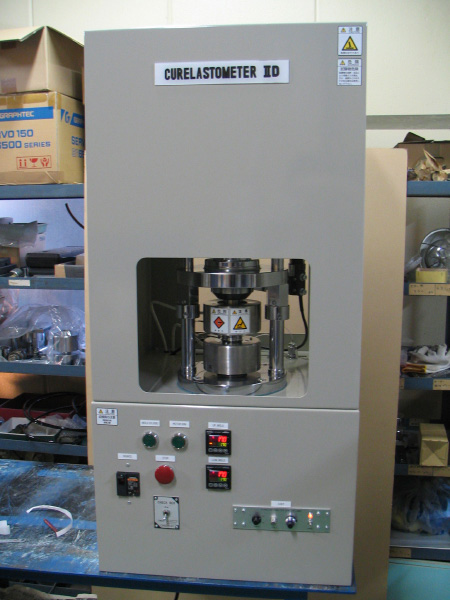 CURELASTOMETER® II D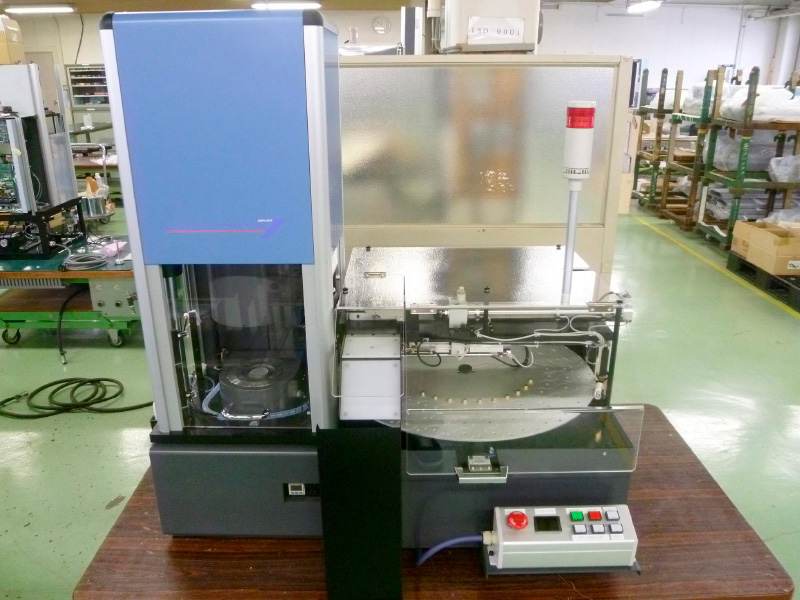 CURELASTOMETER® Type R 7 (for rubbers) with automated conveyor
Features
Reliable maintenance & support
We dispatch technical professionals to perform on-site support to our customers around the globe. We also have permanent local teams in selected countries in Asia that can provide prompt assistance.
Easy & safe operation, English interface
CURELASTOMETER® is easy to use—just load the sample on the die and close the chamber door.
As a safety feature, if the door is inadvertently opened during operation, the instrument automatically shuts down.
Only a few grams of sample are needed to perform a test.
The system software is available in an English version, allowing operators in many countries to run the instrument simply and safely.
Drive mechanism enables precise measurement
The instrument is driven by a sinusoidal oscillator with zero asymmetric error.
Superb fine-tuned temperature control
The die temperature is optimally maintained by a superb fine-tuned temperature control system.
Support for R&D sample testing
The addition of a feature that automatically increases torque and testing time enhances the measurement of samples whose data results are hard to predict.
We have a demonstrator at a site in Tokyo where you can bring samples for testing. Feel free to contact us on testing opportunities.
Calibration, Inspection & Repair
For consultation on these services, use the contact form linked below.
Worldwide maintenance and repair
Regions served: Asia, Europe, Middle East, Americas
(both Type R and Type P)
Contact for questions & consultation
ENEOS Materials Trading Co., Ltd.
●Machinery Dept.
Shiodome City Center 9F
1-5-2 Higashi Shimbashi, Minato-ku, Tokyo 105-7109, Japan
Phone: +81-3-6218-3812 / Fax: +81-3-6218-3819
Request Information
PDF brochures can be requested from below.